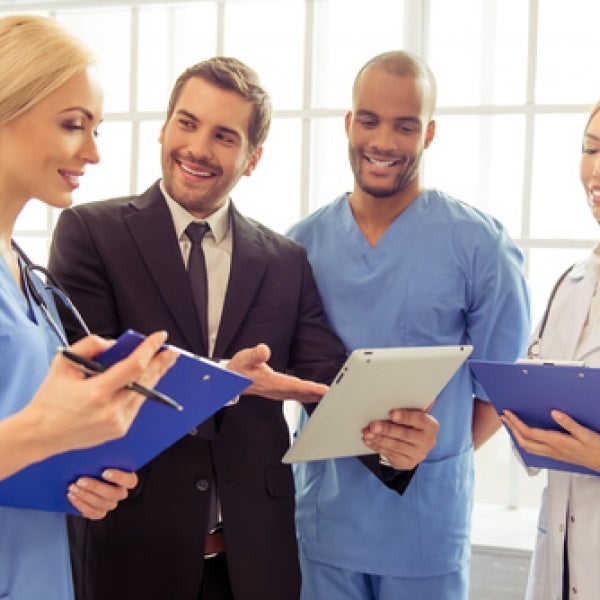 How to Retain Employees in Health Care
According to the Bureau of Labor Statistics, U.S. employment is projected to increase by 11.5 million from 2016 to 2026. The health care sector and its associated occupations are expected to add nearly four million jobs, accounting for approximately one-third of all new jobs. Medical and health services managers will be needed to lead these health professionals in a changing and increasingly complex environment. Employment of healthcare executives and healthcare administrators is projected to grow 20 percent from 2016 to 2026, much faster than the average for all occupations.
Healthcare Turnover Rates
Employee retention is key to the overall and fiscal health of any organization. Staff turnover is estimated to account for up to 5-5.8 percent of total hospital annual operating budget. In addition to the costs associated with replacing employees, low turnover improves quality and continuity of care for patients. Physicians practice more efficiently and are better engaged when facilities are able to maintain a highly competent workforce. A health care facility's bottom line is affected when employees must deal with constant orientation of new staff or working short when staff replacements are not found. These issues impact morale, attendance, and satisfaction. As the economy has grown since the recession in 2008 and as the unemployment rate continues to slowly drop, turnover rates are on the rise. Employees may leave a current position for a promotion, better opportunity for advancement, better compensation, or workplace frustrations and burnout. According to Compdata Surveys' national survey of health care staff ranging from entry-level to top executives at 10,250 healthcare facilities, the average total turnover rate reported for healthcare employers in 2015 was 19.2 percent, up from 17.7 percent the previous year. Voluntary turnover rates have also increased and vary by facility type. Long-term care facilities had the highest voluntary turnover rate at 19 percent while medical groups reported the lowest at 10.3 percent. A 2017 survey report from Leaders for Today identified that health care facilities are facing higher turnover and attrition rates than in the past. It's affecting every role, from the top senior executives to the front desk and the front lines. Data revealed hospitals will need to replace virtually half of their staff every five years. Nearly 43 percent of respondents reported they have been with their current hospital for fewer than two years and 65.7 percent said they have been with their hospital for fewer than five years. The survey found 37 percent of respondents planned to leave their current organization within the next two years and 68.6 percent planned to leave within five years. There is also a shrinking talent pool as more hospital employees retire, with 47.7 percent of survey respondents expecting to retire within the next decade.
Nursing Turnover Rates
In the coming years, the U.S. will see an increased demand for health care services due to an aging population, longer life expectancies and growing rates of chronic conditions. Nurses comprise the largest segment of health care professionals. Nurse turnover is expensive and disruptive, and it jeopardizes patient safety and quality of care. Turnover rates are highest when jobs are abundant and nurses who are dissatisfied with their current position have numerous other options. As the nurse workforce ages, facilities are looking at a significantly smaller pool of experienced talent to fill open positions. Early-career nurses will be needed to fill the void left by retiring baby-boomers. Turnover tends to be highest during the early years of a nurse's career. A study by Kovner and colleagues found the one-year turnover rate among all newly licensed RNs was 17.5 percent and the two-year turnover rate was 33.5 percent.
Solutions
While some degree of employee turnover is expected and healthy, workplace dynamics that drive increased employee turnover rates can often be modified. Managers can keep high-performing employees happy and engaged so that the continuity and performance of the system remains intact. As Compdata Surveys Vice President, Amy Kaminski states: "Employers are reporting rising voluntary turnover rates, indicating the workforce has increasing confidence in the job market. Your key employees have options when it comes to where they want to work. Understanding turnover trends allows you to put programs into place for retaining your quality employees, [and] develop a solid plan for recruiting new ones." Hospitals across the country use benchmarking to determine the top priorities for improvement. The benchmarking process allows hospital executives to see how their organizations compare to competitors. Healthcare turnover benchmarks can be met if organizations take the following measures to retain highly qualified individuals over long-term employment periods:
Optimize the hiring process and act quickly so top candidates aren't lost as they accept opportunities elsewhere.
Implement peer interviewing to ensure each new hire is a fit for the organization. The candidate can meet future coworkers and employees can determine if there's a cultural fit and have final say in who is hired.
Assimilate and acculturate new employees to the required professional skills and expected normative group behaviors at the time of hire.
Implement nurse residency programs for newly licensed nurses. These programs have been shown to reduce turnover and to be more cost effective than traditional orientation programs.
Create a supportive environment to improve the perception of organizational support, employee engagement, team cohesion, and connection to the organization's mission.
Assess employee engagement and identify any problems that might lead to disengagement through weekly rounding on units and organized surveys. Develop impact plans based on results to improve identified areas of engagement.
Focus on high performers. Management can informally recognize high performers and encourage their development in an effort to "re-recruit" them to the organization.
Place low job performers on an improvement plan that specifically identifies what they need to change by a specified date.
Health care administration is a challenging and rewarding career that enhances the care environment for patients as well as the healthcare professionals charged with their care.
If you're a healthcare employer interested in more information about GHE's healthcare schools and programs, visit our Employers page. 
Sources:
Becker's Hospital Review (2017, May 11). Hospitals face unprecedented turnover, attrition rates: 4 survey findings. Bureau of Labor Statistics (2017, October 14).
Employment projections – 2016-26 [News Brief]. Bureau of Labor Statistics (2018, April 13).
Medical and health services manaers [Occupational Outlook Handbook]. Compdata Surveys and Consulting (2015, September 17).
Rising turnover rate in healthcare and how employers are recruiting to fill openings. George, G. G. (2011, September 28).
8 untraditional ways to retain the best and brightest in healthcare. Kurnat-Thoma, E., Ganger, M., Peterson, K., and Channell, L. (2017). Reducing annual hospital and registered nurse staff turnover—A 10-element onboarding program intervention.
SAGE Open Nursing, 3, 1-13. Stokowski, L. A. (2014, December 16).