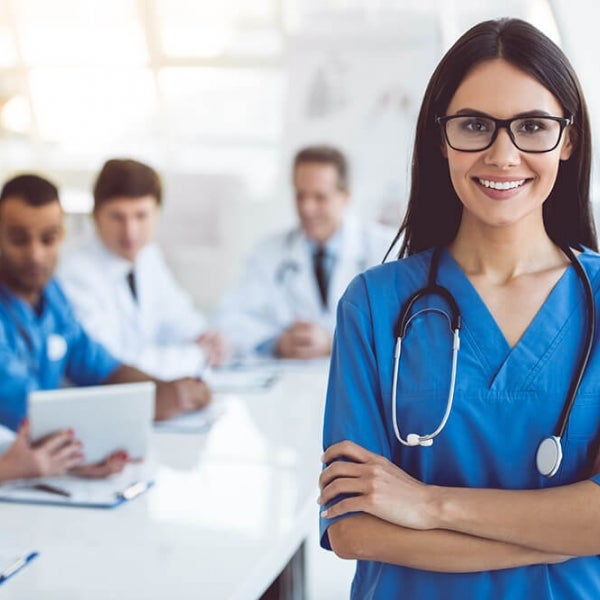 Recent Changes In Nursing Practice & Education
Nursing has been widely accepted as one of the most trusted and honorable professions for many decades, and rightfully so. With a long history of delivering personalized, high-quality care, nurses are often seen and experienced as "angels on Earth."
There have been many changes in nursing practice over the years, but one constant through it all: nurses are essential to providing quality healthcare. And even with many imminent changes in nursing for the future, this fact is sure to remain unchanged.
This article will examine recent changes in nursing practice, discuss education trends, and touch on the role that universities have as education providers.
Changes In Nursing Practice Over The Years: A Brief History
As far back as the 17th century, most infirmities were treated by female members of the family who specialized in household remedies. Physicians were often unavailable, so these early nurses and midwives provided the majority of care for the ill, the aging, and birthing mothers through the early 19th century.
By then, medical schools had been formed, M.D. degrees were awarded to any student who participated in the lecture-only, 16-week long course schedule. During that time, doctors could graduate without ever touching a patient, and there was no such thing as a school for nursing.
Lady With The Lamp
Fortunately, a few decades later, Florence Nightingale demonstrated the undeniable importance of military nursing care during the Crimean War. She compiled her thoughts and published "Notes on Nursing" in 1859, which is considered the first nursing manual of any kind.
One year later, nursing had earned a respected position as a respected profession, following the successful opening of The Nightingale Training School for Nurses in England and marking one of the most significant changes in nursing practice over the years.
From Diplomas To Degrees
Fast forward several more years and nursing education reached the United States with 400 schools in operation by 1900. Throughout the nation, programs steadily became more advanced to adjust to changes in nursing practice over the years.
As academic standards rose, nursing education moved from hospitals to universities, and that trajectory eventually led to the development of an Associate's in Nursing Degree—which remains one of the most popular degrees today.
Nurses can now earn an Associate's, Bachelor's of Science in Nursing and, due to more recent changes in nursing practice, a Master's of Science in Nursing and even doctorate-level degrees for those who would like to teach or conduct research.
Programs such as these are available from numerous accredited schools across the country, many of which are specially designed to accommodate the busy schedules of working nurses.
Recent Changes In The Nursing Practice
Education of nurses has drastically changed over the past several hundred years, but what about the practice itself? No longer reliant on home remedies or traveling physicians, nurses are more equipped than ever with a wealth of scientific advancement and a greater level of autonomy.
In just the last 50 years, nurses have traded in their white dresses and stockings for convenient scrubs. Patient recovery times for many procedures have been shortened, allowing nurses to enjoy greater efficiency and more emphasis on outpatient care.
Perhaps one of the most notable recent changes in nursing practice since the 1970's is the increase in diversity of ethnicity and gender in the nursing profession, creating an even larger and richer pool of talent and experience.
But the faster that society moves, the faster changes seem to happen, and the last decade has brought more recent changes in the nursing practice than the previous 50 years.
What are the most notable changes and their effects on the profession?
Technology
There seems to be no industry that is safe from the breakneck speed at which technology evolves, and nursing is no exception. Not only have patient records shifted from primarily paper to primarily digital, other tools like mobile monitoring devices, smart beds, wearable devices and mobile apps have all been added to the nursing arsenal and been named important recent changes in the nursing practice.
Telemedicine is on the rise, particularly in rural areas, and nurses are expected to keep up with every technological advance as it comes. This has required quick, on-the-job training for seasoned nurses, and new educational components in degree programs for up-and-coming nurses, all to provide training on how to use these emerging tools at their greatest capacity for patient care.
Leadership
Nurses have come a long way from "physician's handmaiden" to "trusted partner" in the healthcare field. As respect for the nursing profession has increased, so have responsibilities, expectations, and leadership roles for nurses—especially those with advanced degrees.
In 2010, the Institute of Medicine report, "The Future of Nursing: Leading Change, Advancing Health," recognized that nurses should be full partners in not only patient care, but in redesigning the U.S. healthcare system itself.
That is no small or easy task, but as recent changes in nursing practice show, it has become widely accepted that nurses' voices are essential to the progression of healthcare as a whole.
Responsibilities
When the Affordable Care Act (ACA) passed in 2010, it brought sweeping changes to healthcare across the board. Every corner of the field felt it, including nurses of every kind.
The emphasis on preventative care and community health screenings changed the way that nurses interacted with patients, and a major shift to in-home care created unique opportunities to educate patients on proper self-care at a level never seen before.
Even the rise in delivery of prescription drugs meant nurses became coaches so patients could learn to administer their own treatment—something anticipated to increased with changes in nursing for the future
Offering care and consults via telemedicine is one of the notable recent changes in nursing practice and a major new responsibility, and some nurses are even taking up new careers in non-traditional roles, such as flight nurses in emergency aircraft, hyperbaric nurses, and even transgender youth nurses.
Roles and responsibilities have poignantly expanded in impactful and ways to match all of these changes in nursing practice over the years.
Career Opportunities
Not only has the profession of nursing has been elevated, nursing salaries have as well. As specialized degrees and practices have increased, so have job opportunities in those areas and demand for that kind of care.
From home-health, to geriatric care and nursing homes, to schools and camps, to hospitals, and even private nurse practitioner practices in certain states, nurses are inarguably in demand across the country and across industries.
Autonomy
Due to longer patient lifespans and a growing population, the U.S. has begun to feel the effects of a physician shortfall in the last few years, which is anticipated to dramatically increase in the coming decades.
When the Association of American Medical Colleges (AAMC) made this projection in 2017 based on recent changes in the nursing practice, there was already a shortage of 14,500 primary care physicians in the U.S., which is anticipated to grow to a shortage of as many as 55,200 providers by 2032.
This situation has created an opportunity in nursing, especially for advanced practice nurses, like the nurse practitioner (NP). Depending on the state they live in, NPs may operate at the same level of independence as physicians.
In states offering full practice authority, NPs can legally run their own practice, make diagnoses, administer medication, and much more, without the presence or aid of a physician. This level of autonomy has not only impacted NPs, but also the number of patients who can receive care during the nationwide physician shortage.
Education
Arguably, the most significant change in nursing over the last ten years has been nursing education. More universities have offered specialized degrees, while training has become more formal and complex; at the same time, this education has become more accessible.
As Bachelors of Science in Nursing (BSN) degrees have become a more standard expectation, schools have created more attainable ways of earning them through online programs, flexible schedules, and even assisting with clinical placements.
Even more advanced degrees are becoming available online, meaning that aspiring NPs can feasibly earn a Master of Science in Nursing (MSN) while working full time, and then open their own practice. This change in career trajectory is something that nurses from 50 years ago could never have dreamed. The future is bright for nurses today.
Changes In Nursing: A Culture of Health
Studies show that due in part to many of the recent changes in the nursing practice, the nursing workforce is becoming more diverse and more educated every year. This is excellent for patient care, but provides a new challenge for those nurses who are pursuing further advancement in their careers.
In addition to earning higher degrees in nursing itself, some nurse leaders are opting to round out their education with Six Sigma certifications, Business and Strategy certifications, and other management-related classes to grow beyond their MSN training.
As nursing responsibilities and roles continue to expand and demand for nurses increases, the ability to assess the health of a whole community is becoming a new and necessary skill. This holistic approach to "whole-person" health of body, mind, and community, and diving into the connection between them, is becoming essential to patient care delivered by nurses.
The American Nurse Association refers to these efforts as creating a "culture of health," and has established this as a primary goal in the coming years by developing several programs to support it as one of the most significant necessary changes in nursing for the future.
Technology continues to relentlessly advance, which will not only change patient care, but nursing education. More automation, mobility, and access to remote care are anticipated to create a new atmosphere in the nursing landscape.
A Decade Of Nurse Education
Movement toward higher education for nurses is growing along with increased demand. As patient care becomes more complex due to a large aging population, registered nurses (RNs) are expected to adapt. Earning a BSN degree allows for more clinical preparation so RNs can meet the needs of today's shifting healthcare environment.
On top of that, the demand for NPs during the nationwide physician shortage is growing each year. More primary care providers are needed, and NPs are equipped to help address gaps in patient care.
What Nursing Data Shows
Here's the demand for nurse education:
Ten years ago, a study produced by the Carnegie Association determined that entry-level nurses were largely under-educated, and recommended that all RNs earn a master's degree within ten years of becoming licensed.
In 2010, the Institute of Medicine released its initiative to increase baccalaureate-prepared nurses in the workforce from 49 percent to 80 percent by 2020. Governor Andrew Cuomo supported that initiative by signing it into law in the state of New York in 2017.
Then, earlier this year, the Campaign for Nursing's Future reported that the percentage of RNs with a BSN or higher degree has reached a new record of approximately 56 percent. In short, more nurses are working towards higher education than not.
One of the most prominent recent changes in nursing practice is that advanced education of nurses has become a national priority.
Are Changes in Nursing Impacting Universities?
Many post-secondary institutions are invested in being part of changes in nursing for the future and preparing the next generation of nurses.
To keep up with the trend of recent changes in nursing practice, many accredited universities offer flexible online programs to accommodate working nurse schedules. This makes higher education accessible for busy nurses working irregular shifts and demanding hours.
In fact, countless nursing programs offer support to help online students advance their nursing careers by offering:
Flexible online formats
Minimal required log-in times
Low residency requirements
Student support services
Clinical placement assistance
Preparation for licensure
As technology advances and complex care brings more changes in nursing for the future, universities are adapting to meet industry needs. Along with the evolution of nursing education, programs are emphasizing innovation, strategy, and management within their curriculum to create transformative healthcare leaders.
Connect to More Nursing Students
Thanks to a large network of partners across many regions, Global Health Education (GHE) is able to connect universities with ideal students and improve their outcomes.
GHE offers unique solutions to universities that are ready to increase enrollment in their online nursing programs. University services include increased brand awareness and developing a larger network for clinical placements and job opportunities. Student-matching is also beneficial, as our staff is committed to finding the ideal fit for universities and prospective students.
GHE makes it a priority to stay up-to-date with recent changes in nursing practice and is committed to keeping up with changes in nursing for the future of universities.
If you're ready to attract and graduate more nursing students, while building stronger relationships with healthcare providers, learn about our online nursing programs.