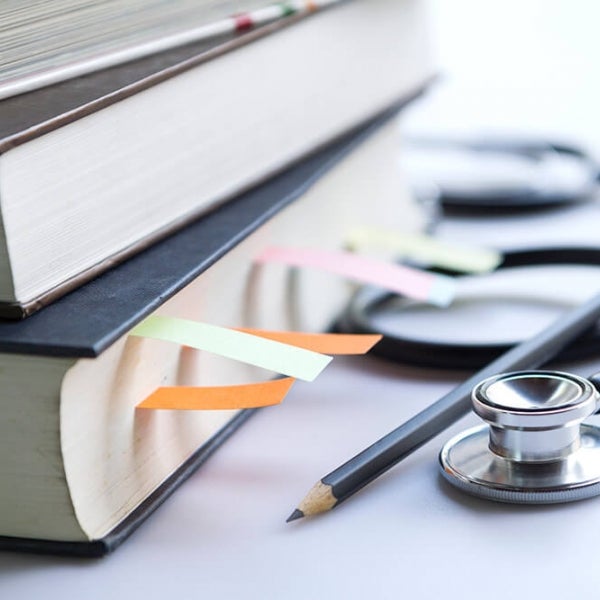 Top 8 Reasons To Get A BSN Online Degree
Why should you pursue a Bachelor of Science in Nursing (BSN)? You already have your Associate Degree in Nursing (ADN) as a registered nurse, you work hard, save lives, and serve others every day. Life is good—so why would you add more to an already busy schedule by getting a BSN online degree? We can think of a few compelling reasons.
Before we get to that, what is a BSN nurse? Let's clarify the difference between an ADN and a BSN. An ADN can usually be completed in two years, while a BSN is traditionally a four-year program. A BSN can be earned quicker if you already have your ADN as a registered nurse. (Source.)
Both degrees share core curriculum, but there are some major differences with a BSN program. Here's an example of courses that BSN programs typically offer:
Management courses
Leadership training
Critical thinking
Communication courses
Nurse theory
Nursing informatics
Nurses with an ADN are highly competent in their training, but do not receive the same amount of formal education as BSN-prepared nurses. This includes additional clinical preparation.
As more and more health systems require nurses to hold a BSN degree due to increasingly complex patient needs, it's becoming essential for ADN-prepared nurses to work toward earning one.
BSN Salary
You didn't become a nurse just for the money, but that doesn't mean you shouldn't earn top dollar as an expert in your field. Nurses with a BSN salary can annual earn as much as $30,000 more than those without one.
The average salary for a registered nurse (RN) with an associate degree is $68,000, while those with a bachelor's earn a BSN salary of $82,000 a year on average. (Source.)
We know money isn't everything, but earning enough to support you, your family, and your future is too important to ignore—especially when a BSN online degree program will allow you to continue working while earning a BSN degree.
You'll Improve Patient Outcomes
Equipping yourself with knowledge and education will only make you a better at your job—that's true of any field. But when the health of patients is on the line, that extra training becomes exponentially more important.
Studies have shown that patients who have been cared for by a nurse with a BSN have better outcomes, including a lower mortality rate. Nurses with a BSN are also better trained to evaluate patients, their results, and their diagnoses. (Source.)
One study found that a 10% increase in the proportion of nurses who hold a BSN decreased the risk of surgical patient death by 5%.
"Quality patient care hinges on having a well-educated nursing workforce."
- Ann H. Cary, PhD, MPH, RN, FNAP, FAAN, chair of the board of directors at the American Association of Colleges of Nursing (AACN)
Moving from RN to BSN with a BSN online degree expands your nursing capabilities and allows you to apply your newfound knowledge to your day-to-day job. (Source.)
Lifelong Learning Enriches Your Life
Going back to school is a good career choice, and it's also good for your mental and physical health. (Source.)
The determination practiced from learning something new, achieving a goal, and earning a BSN online degree can make you a stronger, better person. Completing a difficult task is challenging, but the rewards are worth it. You'll feel ready and confident to take on whatever the world has to offer.
Studies have also shown that lifelong learners are healthier and live longer, too. Why not see for yourself by moving from RN to BSN with a BSN online degree?
Jobs for RN BSN: New Career Opportunities
With a BSN online degree, career opportunities will open up like never before. You'll be qualified for several unique and desirable nursing specialties that require a BSN, including:
Nurse manager
Oncology nurse
Nurse advocate
Informatics nurse
Perioperative nurse (Source.)
You'll be immediately prepared to work toward these positions once you've earned your BSN online degree—none of these jobs require a master's degree.
Benefits of pursuing one of these unique jobs for RN BSN holders
What is a BSN nurse? There are so many possibilities and career opportunities to fit whatever your passion may be.
Nurse managers have more responsibility and authority than other nurses. If you crave a leadership role where your advice and opinions are sought out, this could be the right fit for you.
Oncology is a special calling. If you feel fit to comfort, counsel, and care for cancer patients, nothing could be more rewarding than being an oncology nurse.
A nurse advocate serves and advocates for their patients, most often as a liaison between patients and insurance providers. It's a position that requires empathy, grace, and tenacity, as well as dedication to remaining current on all policy and legislation. If you have a way with people, nurse advocacy is worth pursuing.
You may have never heard of an informatics nurse, but their work is essential to the healthcare industry. Informatics nurses deal with data and statistics to help develop technology and improve patient care—kind of like an IT department of the nursing world.
And that's just a glimpse of what's possible with a BSN. You could also choose to work as a clinical nurse instructor, ICU nurse, nurse administer, and in many other areas. But whatever you choose, you'll need a BSN to get started.
From RN To BSN: A Step To Bigger Opportunities
If you dream of one day becoming a nurse practitioner, clinical nurse leader, or eventually running your own practice, a BSN online degree is a vital stepping stone toward reaching that goal. Careers like these require a Master's of Science in Nursing (MSN) degree, and a BSN is a necessary prerequisite for higher education.
Nurse practitioners, nurse anesthetists, and certified nurse midwives are three of the most sought-after and highly-paid specialties in the world of nursing.
Earning over six figures, nurse practitioners have the added bonus of becoming licensed to run their own practice in states with full practice autonomy. Nurse anesthetists can earn an even larger salary—the average nurse anesthetist makes over $165,100 annually. (Source.)
And that's just the tip of the iceberg of opportunities for jobs for RN BSN nurses: clinical nurse specialists, orthopedic nurses, critical care nurses, clinical research nurses, pediatric nurses, nurse educators and more all require a master's degree. If any of those careers spark your interest, a BSN online degree is a step in the right direction.
A BSN Offers Greater Job Security
Having a BSN isn't only vital for improving patient outcomes and advancing your career, it's becoming more and more important to ensure job security for nurses, especially in certain states.
In 2010, the Institute of Medicine (since changed to the National Academies of Sciences, Engineering, and Medicine) published a report on The Future of Nursing: Leading Change, Advancing Health. The report recommended that 80% of all nurses hold a BSN by 2020.
Since then, states across the nation have been working hard to achieve that goal. In 2017, 56% of nurses possessed a BSN, up from 49% when the report was published, and it's predicted that the 80% goal will be reached by 2029.
What does that mean for nurses without a BSN? Unfortunately, registered nurses without a four-year degree will become less desirable in the job market, despite their valuable years of experience.
Due to the goal of building a workforce with at least 80% of nurses holding a BSN, health care facilities will have no choice but to hire nurses with a BSN over those without. Moving from RN to BSN in the next nine years is highly recommended.
Some States Already Require BSNs
In 2018, New York became the first state to require nurses to earn a bachelor's degree within ten years of becoming an RN. This is commonly referred to as a "BSN in 10." Although New York is currently the only state enforcing this law, more are expected to follow its example in the near future. (Source.)
Some health systems are hiring RNs with similar stipulations. Texas Health Resources, for example, requires that all RNs have a BSN within two years of being hired. In Indiana, too, most health systems require nurses to earn a BSN within five years of employment.
Colorado is home to some hospitals that won't hire nurses without a BSN.
If you're planning to be a nurse for another 10, 20, or 30 years, you'll likely be required to get a BSN. And if you'd like the freedom to move across state lines and be hirable anywhere, it's probably time to shift from RN to BSN. (Source.)
Simply put, earning your BSN online degree before 2029 is a wise choice. Why put it off?
Get a jump on the competition and enroll in an online BSN program today.
Your Education, Your Future, Your Freedom
Perhaps you love the face-to-face, hands-on care of patients more than anything else, and have no desire to get away from that.
You may never want to, and that's wonderful. But earning a BSN online degree will only increase your qualifications for your current job, improve your patients' experiences, and help you adapt to today's challenging health care environment.
If you're still figuring out your passion and not quite sure where you'll be in five or ten years, that's okay. But why not ensure that you have every opportunity available to your future self?
Give yourself the freedom to choose your own career path. Earning a BSN online degree will only give you more possibilities down the road, even if you decide later on that pursuing a master's degree isn't for you.
Getting A BSN Has Never Been Easier
Earning a BSN requires dedication and hard work, but it's also never been more accessible.
BSN online degree programs make it possible for full-time professionals to earn a degree and continue working—there's no need to sacrifice one for the other.
A BSN online degree program from a variety of top-notch universities can offer flexibility, guidance, and support, all while maintaining the excellent educational standards of the nursing community.
It is possible to complete your degree in as little as two years with many BSN online degree programs offering year-round open enrollment. With the flexibility of asynchronous formats and no required log-in times, you can create a coursework schedule that works for your life.
How GHE Can Help
Important decisions warrant discussion. Speaking with a BSN online degree program expert will help you decide which online nursing program is best for you. Whatever your reason is for earning a BSN—a higher salary, more career opportunities, personal growth—an online enrollment advisor can help find the best program for you.
Global Health Education (GHE) is committed to connecting students to higher education opportunities. We provide students with personalized support to help you reach your goals, and work with you to stay within your budget.
Learn more about our BSN online degree programs and how we can support you in your next step in your career.