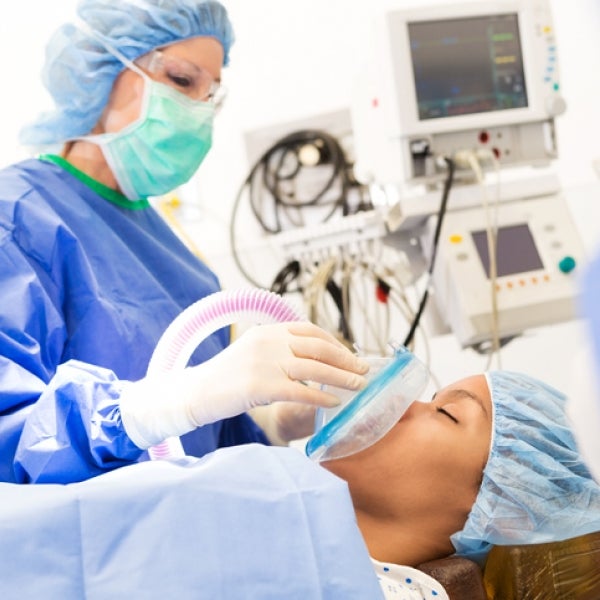 What Is a Nurse Anesthetist?
Nurse Anesthetists administer anesthesia to millions of patients each year. The American Association of Nurse Anesthetists (AANA) indicate in 2016 over 43 million patients received anesthesia from Certified Registered Nurse Anesthetists (CRNA's).
Nurse anesthetists have been working in the field for over 150 years but became recognized as a specialty in 1956. A master's degree is the minimum educational requirement, and many CRNA's are doctorate-level practitioners. A nurse with the goal of CRNA practice starts with obtaining a solid fundamental nursing education through baccalaureate preparation.
For RN's looking to pursue a career as a Nurse Anesthetist, a 100% online RN-BSN degree in nursing can help.
Fast Facts on Nurse Anesthetists per the American Association of Nurse Anesthetists (AANA)
Ranked #41 out of 100 Best Jobs in America by CNN in 2012
Nurse anesthetists have self-reported a perfect job satisfaction per Payscale
Bureau of Labor Statistics (BLS) reports the average salary of a CRNA is $160,250
40% of CRNA's are male as opposed to 10% of the general nursing population
The Road to CRNA Excellence
Certified registered nurse anesthetist (CRNA) requires 7+ years of post-secondary education
Must complete an accredited program per the AANA
Requires 2500 clinical CRNA hours
Requires candidates to administer over 850 anesthetics under supervision before obtaining certification
Certification requires passing the National Certification Exam (NCE)
Most nurse anesthetist candidates usually are employed in acute care settings as registered nurses for at least a year before enrolling in an accredited CRNP program. Admission to accredited CRNP programs is very competitive so the most successful candidates must have a proven track record of academic excellence.
Baccalaureate prepared nurses take classes in chemistry, human anatomy, physiology, microbiology, statistics and liberal arts classes which help with an application to accredited nurse anesthetist programs.
A candidate who wants to be on the fast track to accredited CRNP program admission would do well to consider the following steps.
Obtain good grades in a baccalaureate degree nursing program and become a licensed registered nurse by sitting for the NCLEX examination.
Work for at least 1-2 years in an acute care setting such as an emergency room or critical care unit.
Candidates should have BLS/ACLS/PALS certifications.
Some candidates achieve their certification in critical care nurses (CCRN) which requires 1750 clinical work hours within two years in an approved clinical care setting. Certification requires sitting for a proctored exam through the ANCC.
Gain admittance to an accredited nurse anesthesiology program which takes 24-36 months. The Council on Accreditation of Nurse Anesthesia Programs (COA) maintains a complete list of accredited programs.
CRNA certified nurses, after 2016, are part of the Continued Professional Certification Program (CPC) which requires 100 CE credits per four-year cycle which include modules in the following, and must pass a comprehensive re-examination every eight years.
Airway Management
Applied Clinical Pharmacology
Human Anatomy and Pathophysiology
Anesthesia Equipment and Technology
Minimum education is a master's degree, but as of 2015, 46 of 115 accredited CRNP programs also offered doctoral degree as an option.
Nurse Anesthesiology Organizations
Council on Accreditation of Nurse Anesthesia Programs (COA)
National Board of Certification and Recertification for Nurse Anesthetists (NBCRNA)
Where Do Certified Registered Nurse Anesthetists work?
Nurse anesthetists can work anywhere and everywhere and administer anesthesia as a practice of nursing. Anesthesiologists operate as a practice of medicine. Regardless of discipline, the same methods are used to deliver anesthesia. CRNA's provide high-quality anesthesiology delivery at a reduced cost and are an essential part of managing escalating health care costs.
The American Association of Nurse Anesthesiologists (AANA) reports CRNAs are used in almost 100% of rural American hospitals to provide anesthesia services.
CRNA's practice wherever anesthesia is delivered and experience high professional respect and professional autonomy.
Traditional surgical settings
Delivery rooms
Critical Care hospitals
Dentist's Office
Plastic Surgery
Pain Management
Military institutions/settings
Malpractice Insurance, Supervision Opt-Out and Direct Reimbursement
A CRNA requires malpractice insurance to work in the field. The AANA reports that the national average premiums for self-employed CRNA's are 33% lower than in 1988 as the need for competent, cost-effective anesthesia services expand.
The federal physician supervision role for nurse anesthetists was changed by the Centers for Medicare and Medicaid Services (CMS) in 2001 to allow state governors to opt out of facility reimbursement rule by meeting three criteria.
The state must consult both the state boards of medicine and nursing about access issues and quality of anesthesia services
Determine that opting out of physician supervision is consistent with the state law
Determine that the decision aligns with the best interests of the state's citizens.
Currently, 17 states have opted out of physician supervision of certified registered nurse anesthetists per CMS. Congress passed legislation in 1986 that allows CRNAs to direct bill. Nurse anesthetists are the first nursing specialty to be accorded direct reimbursement.
In addition to obtaining an excellent baseline with a online RN to BSN Degree to jumpstart their CRNA aspirations, a prospective nurse anesthetist should consider becoming a member of the American Association of Nurse Anesthetists (AANA).
The AANA reports that over 90% of nurse anesthetists working in the United States are members. Online RN to BSN programs are a great starting point for any RN looking to launch a fantastic career trajectory towards advanced practice nursing.
If you are interested in more information about GHE's nursing schools and programs, visit our Students page!