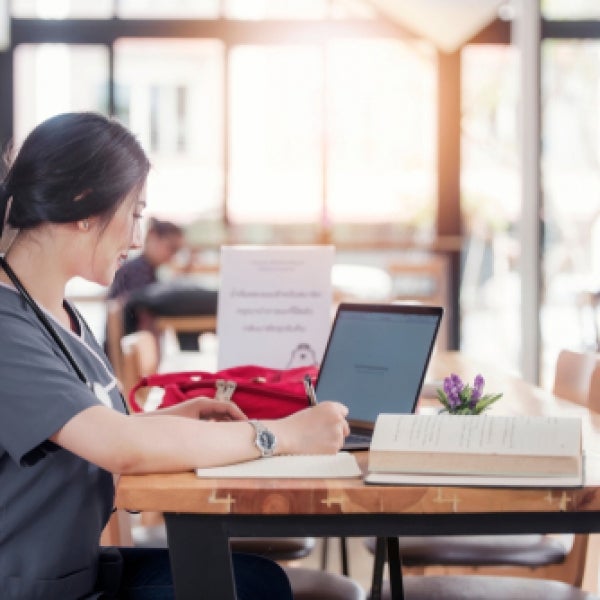 Why Get an RN to MSN Online?
As you think about advancing your nursing career, you may wonder what route is best for you. Higher education offers a variety of options and it can be challenging to determine what will best meet your needs. The two primary paths are traditional face-to-face instruction or an online program. Online nursing bridge programs are becoming more commonplace in today's nursing world because of their potential for providing more flexible access to content and instruction at any time, from any place. A 2015 survey conducted by Aslanian Market Research and the Learning House identified nursing as the second most popular major among both undergraduate and graduate online learners.  The RN to MSN option is designed for nurses who want to go from an ADN to an MSN faster and more affordably than pursuing a BSN first.
Benefits of Online RN-MSN Programs
Nurse education helps student nurses move from the fringes of the nursing "community of practice" towards legitimate membership at the end of their training. Online education programs increase the availability of learning experiences for students who cannot or choose not to attend traditional classroom-based offerings, deliver educational content in a cost-efficient manner, and enable instructors to maintain learning outcome quality while reaching more learners. These degree programs provide the convenience and flexibility prized by many nursing professionals. Online MSN programs fit the needs of busy nurses, as you can more conveniently pursue a degree without sacrificing your work, family or social commitments. Classes and coursework can be accessed on your own schedule at a time and place that is most convenient for you. You can study at home when the kids go to bed, on your lunch break or early in the morning before your family wakes up. 
An Interactive Online Learning Community
Today's online learning offers multimedia educational resources and the capability to support both real-time and asynchronous communication between instructors and learners as well as among different learners. Online nursing programs offer the opportunity for "live" forums, where people can react and respond at the same time, and asynchronous communication, such as wikis or discussion boards, where people respond to each other after a delay. These tools offer powerful opportunities for information sharing and collaboration. Having time to plan or correct a response and the ability to log on and off at will gives people greater control over internet relationships than in traditional social ones. You will be part of an interactive learning community and have a dedicated Student Success Coach who will act as your personal concierge, making sure you have tools and support to help you graduate and advance your career.
Learning in an Online Setting
Online learning is comparable to conventional classroom instruction. It's an effective option for both undergraduate and graduate students and in a wide range of academic and professional studies. A 2010 analysis conducted by the U.S. Department of Education found that students in online conditions performed modestly better, on average, than those learning the same material through traditional face-to-face instruction. Online learning was more conducive to the expansion of learning time than was face-to-face instruction. An online learning environment can provide opportunities to participate in a community of practice for those who may otherwise exclude themselves. For example, it may allow more introverted student nurses to engage in learning more fully online than they would in traditional teaching situations.
Improving Your Qualifications for Future Employers
During the application process, employers evaluate candidates for nursing vacancies based on a variety of factors. They consider where and in what format candidates have earned their degree. Most employers have favorable views of degrees earned online. They understand that an online program may be the only possibility for busy nurses to advance their career. It shows potential employers that you're committed to learning and eager to obtain more knowledge and new skills. Another important consideration for employers is whether the program is accredited. Online nursing degrees are meant for those who already have their licenses. 
Take the Next Step in Your Nursing Career
There's no better time than now to take the next step in your nursing career by completing a nursing bridge program. You can continue to practice while working toward a position such as nurse educator, nurse administrator or nurse practitioner. If you're a nurse with an associate degree from a regionally accredited institution and nursing program, a 3.0 GPA and an unrestricted, unencumbered, current nursing license from your state of employment, you could qualify!  Learn more on the website or if you are ready, you can apply online.
If you are interested in more information about GHE's nursing schools and programs, visit our Students page!
Sources:
Friedman, J. (2016, February 23). What employers think about your online nursing degree. Retrieved from the U.S. News & World Report website.
McKenzie, K., and Murray, A. (2010, February 5). E-learning benefits nurse education and helps shape students' professional identity. Retrieved from the Nursing Times website.
U.S. Department of Education (2010, September). Evaluation of evidence-based practices in online learning: A meta-analysis and review of online learning studies. Washington, DC\