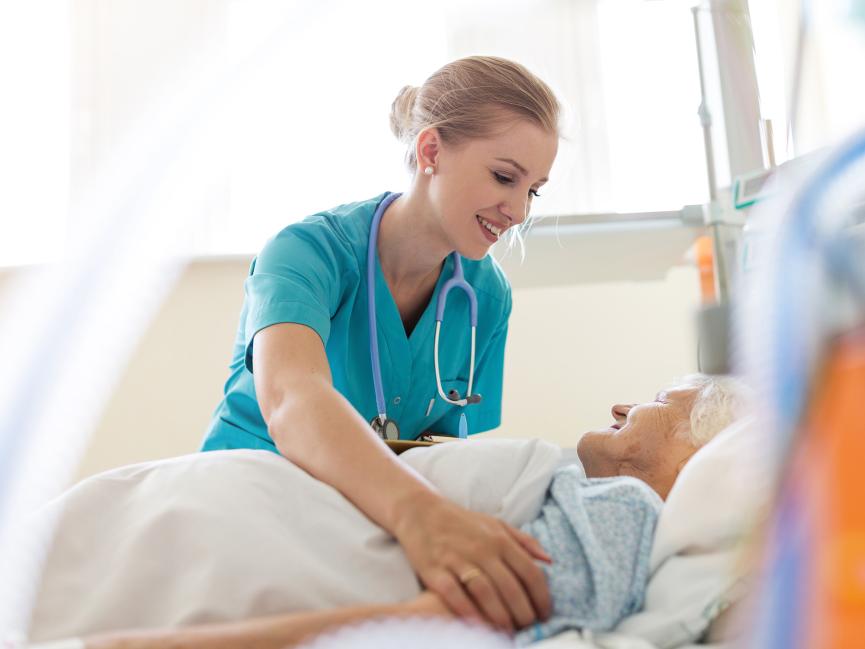 Delivery
Online
Study Level
Postgraduate
Course Type
Master's
Duration
24 months (Part time)
Commitment
15 - 20 hours/week
Units
12
Fees
FEE-HELP
Start Dates
15th January, 2024
11th March, 2024
13th May, 2024
8th July, 2024
9th September, 2024
4th November, 2024
Price Per Unit
$2,905
Enquire Now
Connect with the James Cook University Student Team
Get a callback at a time that suits you
No obligation & free
Tailored advice
With a rapidly ageing population, changes in technology, changes in management demands, and the evolution of nursing knowledge and practice, there are growing opportunities for qualified senior nurses and nurse leaders in Australia.
JCU Online's Master of Nursing gives you the qualifications and skills you need to evolve your career as fast as healthcare itself is changing. It will allow you to take on more complex roles and deliver better patient care.
The Advanced Practice major, with its four specialised units, gives you the skills you need to deliver advanced patient care.
Transform your practice and improve your clinical skillset.
Develop key skills to help you succeed in clinical contexts.
Understand the latest in healthcare informatics.
Designed by passionate nursing professionals.
Fast-track your career with 100% online study.
Be supported by a dedicated Student Success Advisor.
The JCU Online's Master of Nursing prepares you to shine at the next level in your career – advanced communication skills, data management skills, governance knowledge, informatics, and the ability to design and implement evidence into practice. We equip you with the knowledge, proficiency, competency and expertise to succeed in your chosen specialisation.
These core skills were specifically incorporated to ensure all graduates leave the course ready to take on the challenges presented by a changing healthcare landscape.
Core subjects:
Informatics for Health Professionals
Effective Clinical Governance
Persuasive Communication
Synthesising Evidence for Healthcare
Quantitative Research in Healthcare
Qualitative Research in Healthcare
Implementing Practice Development in Healthcare Contexts
Professional Portfolios for Career Advancement
Advanced Practice Major:
Advanced Health Assessment
Quality Use of Medicines in Practice
Applied Health Assessment and Advanced Practice
Diagnostic Reasoning for Advanced Practice
This is one of three majors available:
Leadership and Management major
Education major
Advanced Practice major
You may also choose to combine two of these specialisations and graduate with a double major.
To be eligible to enrol in the online Master of Nursing, applicants must have:
Completed an AQF Level 7 Bachelor of Nursing, or equivalent qualification, and;
Registration as a Registered Nurse (Division 1) or Registered Midwife with the Australian Health Practitioner Regulation Agency (AHPRA) or equivalent registration with the relevant registering authority for applicants outside of Australia;
Completed a minimum of one year of full-time clinical experience, or the part-time equivalent, as a registered nurse or midwife.
Applicants of non-English speaking backgrounds must meet the English language proficiency requirements of Band 3a – Schedule II of the JCU Admissions Policy.
If you have experienced learning either at work, through non-accredited training or from life that is relevant to this course, you may be able to get credit towards your qualification.
You can also build towards your master's degree through flexible entry and exit points and 'qualify as you go' through our nested qualifications. As you study your Master of Nursing, you will gain your Graduate Certificate and Graduate Diploma of Nursing. If you need to finish your study early, you may still qualify for a Graduate Certificate or Graduate Diploma.
Studying the Master of Nursing will provide you with the hands-on technical skills and practical interpersonal management knowledge that are growing in demand in the nursing industry. With three specialisations on offer, this degree allows students the opportunity to tailor their studies to their career goals and succeed in positions such as:
Advanced Practice
Clinical Nurse Specialist
Clinical Nurse Consultant
Leadership & Management
Nurse Unit Manager
Executive nursing roles such as Director of Nursing
Education
Clinical Teacher
Nurse Educator
Higher education and academia roles
Fees shown are subject to change. You may also be required to pay student amenities fees. Contact the university directly to confirm.
The fees shown are per unit. The number of units are listed below fees. Together they indicate the total fees for the course.
FEE-HELP loans are available to assist eligible full-fee paying domestic students with the cost of a university course.
Connect with the James Cook University Student Team
Get a callback at a time that suits you
No obligation & free
Tailored advice
Enquire Now
Delivery
Online
Study Level
Postgraduate
Course Type
Master's
Duration
24 months (Part time)
Commitment
15 - 20 hours/week
Units
12
Fees
FEE-HELP
Start Dates
15th January, 2024
11th March, 2024
13th May, 2024
8th July, 2024
9th September, 2024
4th November, 2024
Price Per Unit
$2,905
Enquire Now
Connect with the James Cook University Student Team
Get a callback at a time that suits you
No obligation & free
Tailored advice