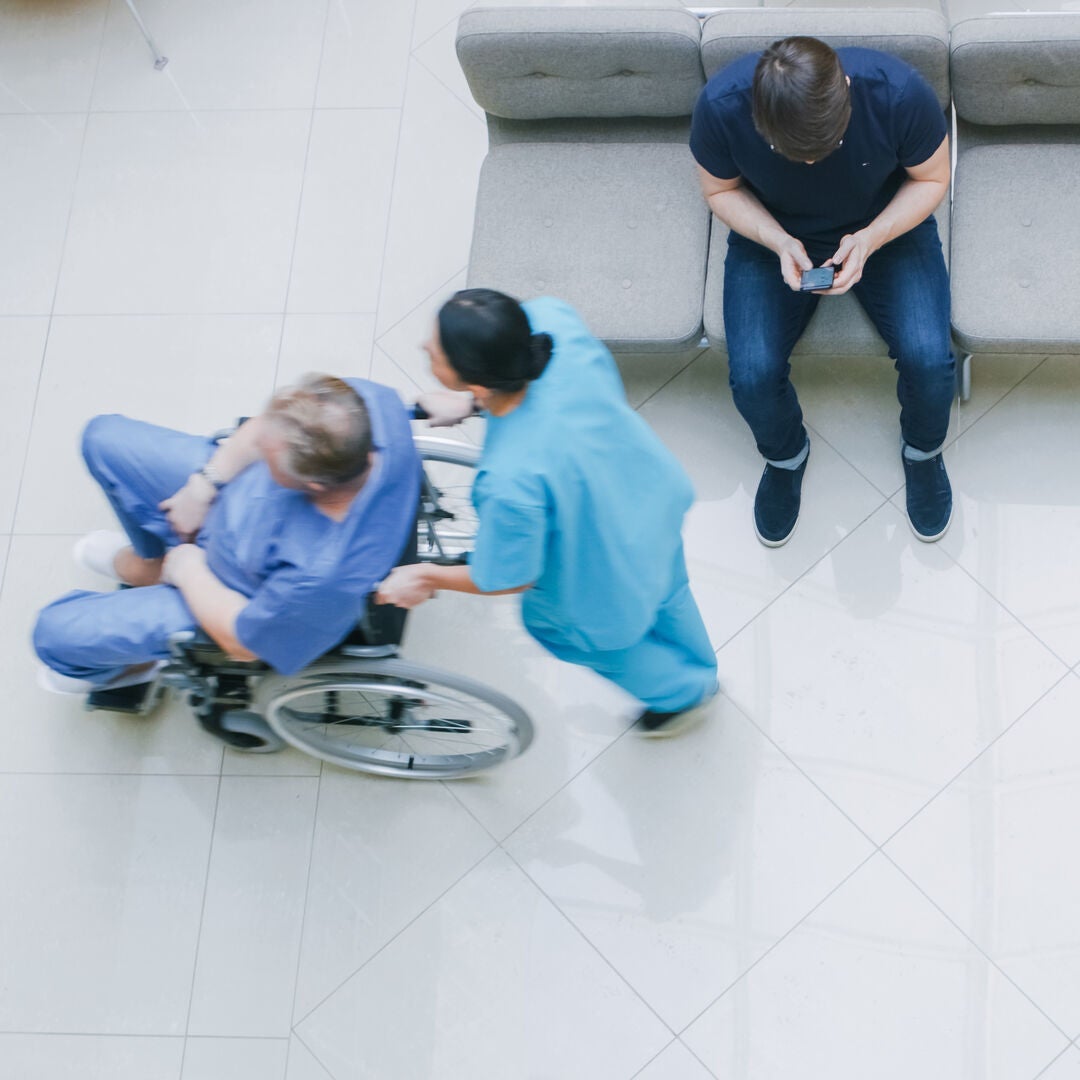 COVID-19 has increased the demand for healthcare professionals exponentially. Here's what you need to know about the skills shortage and how you can put yourself in the best position to help.
Most Australians know that we're experiencing a healthcare skills shortage. Healthcare workers have been in high demand for many years, but COVID-19 has increased demand to unprecedented levels. Compounding the problem, the far-reaching impacts of the pandemic have suppressed supply. 
Healthcare professionals have dedicated their time and energy to responding to an unprecedented public health crisis and shouldered an increased workload as they care for sick patients under stressful conditions. The physical, psychological and emotional toll on many health workers has led to burnout, with many moving to other roles or considering leaving the profession entirely. 
The impact of COVID-19 has put pressure on the entire healthcare sector – including frontline health workers, mental health professionals and policymakers. Many of us have seen first-hand the effects that these skills shortages are having, including reduced capacity in hospitals and other health services and long waiting times for patients to receive health care.
With all challenges, however, come opportunities. If you're experiencing stress, fatigue or even burnout as an overworked healthcare worker, there are plenty of career changes you could make without leaving the sector. Your existing skills could put you in a great position to specialise, for example, in a certain area of your field. You could also consider moving sideways into a complementary field – for example, from nursing to counselling or research. Education has an important role to play in facilitating career changes like these.
What is a skills shortage?
According to National Centre for Vocational Education Research (NCVER), a skills shortage occurs when the demand for a particular type of worker exceeds the supply of such workers.  
Australia's currently experiencing skills shortages across many areas of the workplace, including skilled trade and health care. 
These shortages have real consequences – in fact, according to a recent survey of Australian CEOs,  challenges around finding and retaining staff were identified as the third biggest factor for inhibiting business growth in 2022. Staff shortages also cause disruptions to businesses, supply chains and consumers. In short, they affect all Australians in multiple ways.
"Business leaders expect further disruption from COVID-19 and they expect to face additional supply chain interruptions and challenges as well as intensifying skill shortages across a wide range of occupations," said Innes Willox, chief executive of the Australian Industry Group.
Megan Lilly, executive director for education and training for the Australian Industry Group, explained that the skills shortage problem is largely caused by the lack of skilled migration, international students, backpackers, and other workers from reduced international travel.  
"It's estimated that over the next few years, Australia will need approximately 11,000 new engineers annually which is around 2,400 more than the domestic undergraduate engineering completions each year."
Why do we have a skills shortage in Australia?
On the face of it, Australia's healthcare skills shortage has a simple cause: reduced supply versus increased demand.
The need for skilled healthcare workers, which was already high before the pandemic, has skyrocketed due to the sheer number of COVID-19 patients, the ongoing impacts of our ageing population, and the increased mental health caseload stemming from the impacts of COVID-19, including job losses and lockdowns.
The healthcare skills shortage is felt even more in rural and regional parts of the country, where one in four Australians reside.  These areas struggle to attract and retain healthcare staff and – due to the lower concentration of healthcare specialists – rely more heavily on nurses than metropolitan areas.
Research has highlighted these geographical discrepancies. For example, the Royal Commission into Aged Care Quality and Safety (RCACQS) 2021 found that more than 55% of residential facilities in remote and very remote areas reported registered nurse shortages compared with nearly half that figure of 34% in major cities.
The factors fuelling healthcare skills shortages in Australia include: 
restricted international travel due to COVID-19
burnout of healthcare workers exacerbated by the pandemic
an ageing health workforce
the complexities of health training.
Restricted international travel
Historically, overseas workers have filled many roles in Australia's healthcare system. Take, for example, nursing – a highly mobile profession. Australia's always attracted many overseas nurses, particularly those from the United Kingdom. Before COVID-19, large numbers of nurses came to Australia on working holidays and some even migrated here permanently. In fact, in 2019, almost 20 per cent of nurses working in Australia did their qualifications elsewhere, and nearly 40 per cent were born overseas. 
When international borders closed during the peak of the pandemic, many healthcare staff who were working in Australia returned to their home country. Border restrictions also drastically reduced the number of skilled migrants and international students coming to Australia.
Burnout of current healthcare workers
The impact of the skills shortage on healthcare workers is significant. Many are having to upskill or perform duties that they wouldn't normally do. Not only is the shortage of healthcare workers leading to burnout and some workers leaving the sector entirely, but it's also taking a toll on their mental health.
The newly elected president of the Royal Australasian College of Physicians, Dr Jacqueline Small, has warned that pandemic-fuelled burnout in healthcare workers is a crisis that's affecting the entire healthcare system. 
Recent research from Edith Cowan University (ECU) has shed light on the emotional strain Australian doctors, nurses and paramedics have faced throughout the COVID-19 pandemic. Their survey of almost 600 frontline healthcare staff across the country revealed a workforce less willing to work than before, with concerns at the time ranging from availability of personal protective equipment (PPE), family members' worries, and risk of contracting the virus.
The TGA, who have played a key role in Australia's medical and therapeutic response to COVID-19 and public health policy, have stated, "many staff have worked harder and much longer hours during the pandemic," even if they haven't provided direct nursing or emergency care to COVID-19 patients.  
The effect of healthcare burnout includes workers wanting to switch roles. For example, nurses working on the wards transitioning into other areas of health care – such as research, education or private nursing care, or other health professions, such as occupational therapy - reduces the number of practising nurses.
Complexities of adequate skills training
Training health students has become more challenging under pandemic conditions for a number of reasons, which means a delay in trained staff who are workforce ready. 
For experienced healthcare workers, training students has become a lower priority due to the intensified pressure on the system since the pandemic began. COVID-19 has also led to clinical placements being cancelled due to restrictions, training staff being unavailable because of isolation requirements or a positive test, and limited supplies of the personal protective equipment (PPE) required for both trainers and students. And with on-campus learning being replaced with remote learning during lockdowns, opportunities for hands-on training at university have also been scarce.
As you can see, the factors involved in making sure health students gain the skills and experience they need to confidently join the workforce are complex, particularly during a pandemic. It's an issue that needs buy-in from all stakeholders – including universities, hospitals and government – to resolve.
How the skills shortage is impacting healthcare in Australia
From a clinical perspective, the skills shortage means there are fewer staff available to provide care to patients. 
An example gaining a lot of media attention is Victoria's stretched emergency care system, which is seeing overcrowded hospitals and tens of thousands of 000 calls going unanswered. So far this year, we've seen unanswered calls to emergency – caused by ambulance delays – resulting in 15 deaths.  
This skills shortage is weakening our healthcare system as a whole and causing adverse patient outcomes, particularly across areas of mental health, nursing and aged care – among the most impacted fields. 
Skills shortage impact on nursing
There are nearly 460,000 nurses and midwives in Australia. It's the nation's largest healthcare profession, but anecdotal evidence suggests 75% of nurses in hospital wards are considering leaving the profession and some hospitals are reporting a 30% turnover of nurses each year.  This is challenging our system's capacity to provide adequate health care to patients who need it.
A shortage of nurses is a problem not just in Australia, but around the world. The International Council of Nurses reported that the majority of states of the World Health Organisation experienced 'shortage, maldistribution and misutilisation of nurses'.  
If the ratio of appropriately qualified nurses to patients is not adequate, patient care is at risk, either from longer waiting periods before patients are attended by a nurse, a greater risk from clinical errors, and nurses being asked to undertake duties beyond their skill level or expertise. 
According to Lucy Lehane, clinical educator at ACHS Improvement Academy, "There has been a drain on experience in nursing, so older nurses are leaving. I think that probably has been a casualty particularly of the pandemic, perhaps taking retirement a bit earlier than they might have, so it's losing that mentoring and deep nursing experience from the frontline…." And nurses "have left or they just don't have the energy or the space to do that, because the system is under a lot of pressure."
Nurses were already in high demand even before COVID-19. The additional demand for nurses during the pandemic, combined with the healthcare requirements for our ageing population (and workforce), means meeting the strong demand for nurses is a challenge Australia will face for many years to come. And for nurses joining the healthcare system, this means a huge range of career opportunities across different settings, and opportunities to negotiate working conditions that suit their lives.
Skills shortage impact on mental health care
The pandemic has had a devastating impact on mental wellbeing, with a sharp rise in anxiety and depression. In June 2021 the ABS reported one in five Australians experienced high or very high levels of psychological distress.  For those between the ages of 18 and 34, the rate is one in three – that's a lot of people who are struggling.
According to Suzanne Schultz, psychologist and board member, "Access to psychiatrists has become much more difficult because the demand has gone up. So, waiting lists are very, very long to see a psychiatrist."
It's not just psychiatrists who are sought-after – other mental health practitioners such as psychologists, school and family counsellors and workplace mental health teams are seeing increased demand as well. Anecdotally, patients are delaying seeking and receiving care, self-medicating (especially in mental health) or presenting to emergency once they are critical because they can't access mental health services for moderate support. 
 
Mental health expertise was one of the most requested specialised skills across all jobs in 2020 and it's in high demand across a range of industries. As we deal with the mental health fallout of the pandemic, it's crucial Australians can access the support they need. 
Skills shortage impact on aged care
Australia's aged care system includes a variety of services – from basic supports allowing people to remain independent at home for as long as possible, through to living in a residential aged care facility with full-time care.
The proportion of Australia's population aged 65 and over has risen from 12% in 1997 to 16% in 2019, according to the Australian Bureau of Statistics. This trend is occurring in most of the Western world, with these proportions predicted to grow over the coming years. According to the Australian Institute of Health and Welfare (AIHW), over one million people used aged care services during 2019 and 2020 in Australia. 
Our ageing population is driving increasing demand for nurses in the aged care sector. Aged care in Australia currently employs 360,000 staff,  and it's the next largest employer of nurses after the acute care sector. 
While the pandemic has exacerbated skills shortages in aged care, it was an issue long before COVID-19. A 2016 survey of the aged care sector conducted by the federal Department of Health found 25 per cent of aged care operators had vacancies for personal-care assistants and nurses.  
A recent report by the Committee for Economic Development of Australia (CEDA) warns that the skills shortage in aged care in Australia could reach 110,000 or more in the next decade and 400,000 by 2050. 
The human cost of shortages in aged care is devastating, with the recent Report of the Royal Commission into Aged Care Quality and Safety revealing the skills shortage is leading to inadequate care for many people.  Families are even choosing to self-manage aged care or seek palliative care in some cases.
The School of Nursing, Queensland University of Technology, has stated that if the crisis is not stopped and reversed, it "will lead to a serious reduction in the Australian community's ability to access a range of hospital and residential aged care services. If healthcare agencies continue to treat the same number of patients, despite these shortages, patient care will be compromised." 
Spotting the opportunities for health professionals
The health skills shortage, and its impacts on both workers and overall sector, pose major challenges in Australia. But it's not all doom and gloom. 
The need for skilled healthcare workers is understood by the government and educators alike, which means opportunities in this essential sector are endless. And, the option to study online means you can take steps to change up your career at a pace that works for you while you work and stay on top of your other commitments.
Explore our range of online postgraduate health courses, including counselling, leadership & management, mental health, nursing, psychology and public health, to find one that suits you.