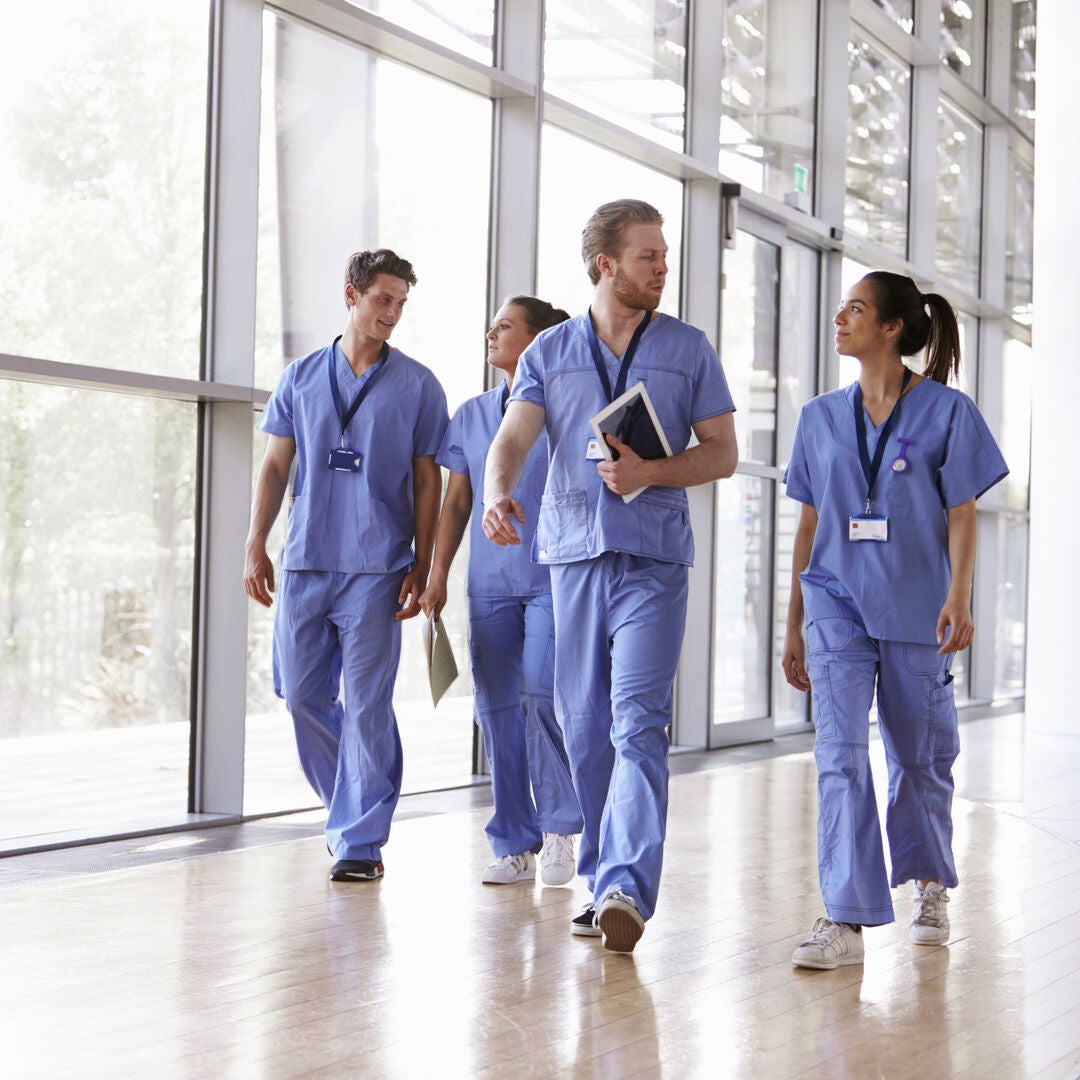 From unprecedented workplace pressures caused by COVID-19 to exciting digital transformations and record funding, healthcare professionals are quickly having to adapt to an evolving industry.
The need for skilled healthcare workers is putting the industry under pressure, driving in-demand jobs for the profession. This has opened doors to those wishing to enter the sector as the need for qualified workers amplifies. Many health professions are experiencing shortages across various industries, including nursing, mental health, public health and more.
We investigate the five most in-demand healthcare jobs in 2023 and identify the best ways to get there.
How to work towards a fulfilling healthcare career in 2023
Since the COVID-19 pandemic in 2020, healthcare workers have faced enormous pressures due to heavy workload, workforce shortage and ageing population. This has led to many healthcare employees seeking a change in careers – however, it's not just the healthcare industry seeing job mobility. According to the ABS, 9.5 per cent of people changed jobs in the year ending February 2022 – the highest rate since 2012.
Increased Government funding and digital transformation in the healthcare industry have also led to increased career opportunities in 2023, with the Australian Government set to inject a record $537 billion into the industry from 2022 through 2026.
Let's take a look at some of the top health field jobs in demand for 2023 and beyond.
The top 5 healthcare jobs most in demand in Australia
The demand for healthcare workers is increasing locally and globally. According to the World Health Organisation, an estimated health professional shortage of 10 million will occur by 2025. As a result, now is a great time to start a career in healthcare or shift to a different area of the industry, as employers are looking for skilled professionals to step into roles.
Where are the most in demand locations for healthcare professionals?
Healthcare workers are needed all over Australia, particularly in regional and rural areas. Much of the government's healthcare funding between 2022 and 2023 will go towards improving healthcare within these communities.
What jobs are in demand in the Australian healthcare industry?
Let's look in more detail at the top five health field jobs in demand.
1. Nursing jobs in demand
Nursing will be among the most in-demand jobs in 2023. While the industry increased 14.1 per cent between 2015 and 2020 — growing from 306,487 employed to 349,589 — Health Workforce Australia predicts that there will be a shortage of over 100,000 nurses by 2025. The projected shortage will result in fewer skilled nurses to provide adequate on-the-job training.
Through initiatives such as the Workforce Incentive Program Practice Stream, the Australian Government is investing in solutions to address gaps in services for local communities. This, in turn, creates greater job opportunities for nursing and allied health professionals.
See our nursing courses. 
2. Mental health jobs in demand
There has recently been a strong focus on the mental health sector due to increased demand over the COVID-19 pandemic.
Federal and state governments have committed to investing in the sector further, focusing on telehealth, regional support and expanding the headspace network. Over time, several different mental health practitioners will be needed to support this growing sector, including, but not limited to, counsellors, mental health nurses and psychologists.
See our mental health courses. 
3. Public health jobs in demand
Public health jobs encompass a wide range of roles focused on promoting and protecting the health of communities and populations. These jobs may include epidemiologists, health educators, community health workers, public health analysts, public health nurses, and more.
The importance of the public health sector was highlighted during COVID-19. This has shone a spotlight on public health jobs and identified how critical they are during times of crisis or outbreak.
See our public health courses. 
4. Allied health jobs in demand
Allied health includes a wide range of healthcare professions, such as counselling, physiotherapy, occupational therapy, speech therapy, dietetics, social work, and more. These professionals play a crucial role in the wider healthcare system, alleviating the pressures on hospitals and primary care facilities by working alongside medical practitioners and nurses to provide a holistic approach to patient care.
Allied health was the fastest-growing healthcare sector between 2015 and 2020, with a 40.2 per cent increase in practitioners (118,418 in 2015 vs. 166,048 in 2020).
According to the National Disability Services Workforce Census Report, there is a shortage of allied health professionals, despite the growing numbers. This is particularly relevant in rural areas, where a shortage of allied health professionals has impacted the ability to effectively deliver the National Disability Insurance Scheme (NDIS).
See our counselling courses
5. Medical practitioner jobs in demand
Medical practitioners such as doctors and GPs are in demand across Australia. Particular shortages in this field include regional and remote communities.
The Australian Government is looking to increase employment within this sector by offering financial incentives for GPs in rural and regional areas. The 2022–23 budget includes a package from which regional GPs and rural generalists can access up to $10,500. Other regional medical practitioners will be able to access financial support through the Workforce Incentive Program.
Launch your healthcare career with online postgraduate education
With healthcare roles being some of the most in demand jobs in Australia in 2023, now is an optimistic time to start working towards a career within the industry.
Currently working in healthcare?
Studying for a postgraduate degree can help you upskill, become a specialist and find more opportunities in your field. It'll help you identify what jobs are in demand and where to focus your career. 
Study flexibly with online delivery
GlobalHealth Education partners with some of Australia's leading healthcare universities to deliver high-quality online courses. Our university partners' online courses are flexible, meaning you can study at your own pace while balancing work and personal commitments. This makes it easier to transition into a new career upon graduation.
Start your journey towards the healthcare jobs most in demand Australia-wide with GlobalHealth Education
The healthcare industry is growing and moving into new, promising realms. With so many healthcare jobs in demand in 2023, now is the perfect time to start studying for a postgraduate degree to help you thrive in your career. Make the leap into a rewarding industry in 2023. Browse our online courses and find out how you can make a difference in public health, mental health, nursing and more.