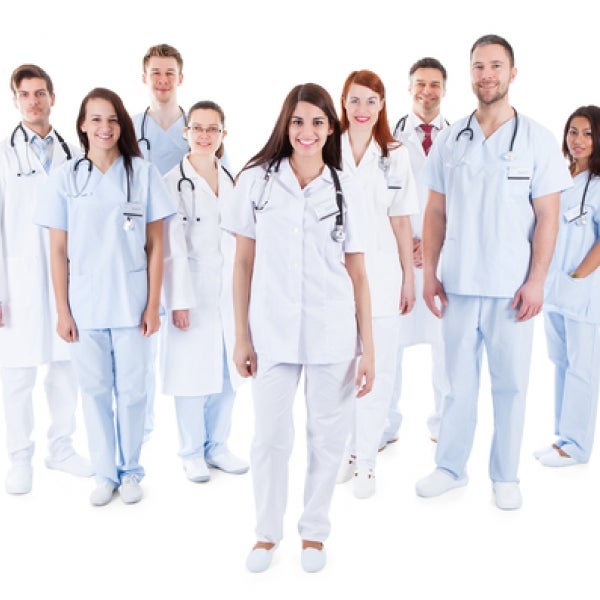 Top Paying Nursing Jobs
Global Health Education leads the pack of online universities in their diverse range of online nursing degree programs: from the traditional Bachelor of Science in Nursing (BSN) to Master of Science in Nursing (MSN) and various specialized graduate level programs, Global Health Education provides an academic framework for nursing hopefuls to become leaders in the profession and reach for whatever their professional goals might be. At the same time, GHE recognizes that many graduates want to ensure that their future salaries offer a satisfying return on their educational investment. This article looks to today's top paying nursing jobs and showcases how Global Health Education's nursing degree programs can help you achieve them.
Certified Registered Nurse Anesthetist
Certified registered nurse anesthetists consistently achieve the highest salaries of any nursing profession, a characteristic owed to the extensive education and significant responsibility the role requires. Nurse anesthetists work closely with anesthesiologists in a variety of medical settings – from dentist offices to emergency rooms – to prepare patients who are slated to undergo sedation. Given the high stakes of this role, certified registered nurse anesthetists must obtain substantial education: following the training to become a registered nurse (RN), candidates must then complete at least one year working in a care facility, at which point they are eligible to partake in an anesthesia education track that culminates in a certification exam. This level of preparatory rigor requires substantial dedication, but it can also be paired with substantial salaries: the United States Bureau of Labor Statistics (USBLS) reports that the mean wage for nurse anesthetists totaled $169,450 in 2017.
Nursing Director
Similar in its demand for high efficiency and exceptional professional practice, nursing directors manage entire nursing teams for a given healthcare facility. In addition to overseeing all elements of the nursing staff and serving as motivator for team goals or professional development opportunities, nursing directors also typically serve as a point of communication between this essential team and the directors or administrators of the healthcare facility. Those who wish to achieve the role of nursing director typically hold an advanced degree in nursing, in addition to the RN designation, but the salary is worth it: Payscale.com charted the national median salary for nursing directors as just over $82,000, with some in the profession achieving up to $112,733.
Certified Nurse Midwife
Those who want to use their nursing skills to help expectant mothers can pursue the credentials to become a certified nurse midwife, a profession that also ranks very high on the nursing career salary scale. Requiring a master's degree and, potentially, a midwifery credentialing program, certified nurse midwives work collaboratively with gynecologists and obstetricians to help coach and advise women throughout pregnancy and afterward in addition to attending to those mothers in labor in home scenarios, birthing centers and hospitals. These roles can be highly stressful and emotionally challenging, but in addition to aiding to bring new life into the world these nurses often achieve noteworthy wages: the USBLS pegged the 2017 annual mean wage for nurse midwives at $103,640, with Payscale.com suggesting reported wages going as high as $111,476.
Nurse Practitioner
While these previously mentioned positions can require additional credentials and work experience beyond graduate work in nursing, those wanting to dive into an advanced nursing career might want to consider the role of nurse practitioner (NP). Nurses in these roles often complete a specialized nursing graduate degree so that they can be essential support for physicians in a variety of medical settings or, in some parts of the country, manage their own clinics. Nurse practitioners also typically have the option to develop a specialty in a specific area, such as family medicine or gerontology, so that they can be an expert in the concerns and conditions of the segment of the population with which they want to work. The salary is great too: according to Payscale.com, nurse practitioners can enjoy a mean annual wage of $107, 460.
If you are interested in more information about GHE's nursing schools and programs, visit our Students page!
Sources:
"Certified Nurse Midwife Salary." Payscale.com Accessed 27 June 2018
"Director, Nursing Salary." Payscale.com. Accessed 27 June 2018
"10 Highest Paying Nursing Jobs & Fields." Nurse Journal. Accessed 27 June 2018
Megan Malugani, "Seven High-Paying Nursing Jobs." Monster.com Accessed 27 June 2018
"29-1151 Nurse Anesthetists." United States Bureau of Labor Statistics. Accessed 27 June 2018
"29-1161 Nurse Midwives." United States Bureau of Labor Statistics. Accessed 27 June 2018